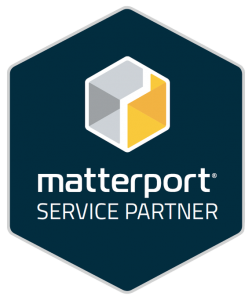 Your property, brought to life
The Matterport 3D Media System
Blow prospective buyers away with 3D Showcase –  an immersive online 3D experience that gives buyers a true sense of the feeling of your property before they even see it in person.
We put Matterport's industry-leading technology to work for your listing. Weed out less interested buyers, and attract more qualified open house attendees.
Your property in immersive 3D, ready on Day 1
We scan your property with the Matterport Pro Camera.
Within 24 hours, your virtual Matterport Space is ready to experience.
Anyone can explore with ease, right from their browser.
Navigate a property link a video game with Inside View
Proprietary Dollhouse View shows how an entire property fits together
Understand layout in a glance with top-down Floorplan View
A 3D tour will create an immediate, lasting emotional connection to your business  because they can experience it as if they where really there.
Our 3D spaces are easy to share, so anyone with a computer or mobile device can walk-through your location from anywhere.
Bring more awareness by showcasing your location with social platforms and current marketing .
We understand that inventory changes often in the real estate market and want to offer a pricing program that scales with your needs. Instead of paying several hundred dollars per virtual tour, we took the approach of reducing upfront cost.  What if there was a monthly plan that allows for any agent to come on board according to their current monthly inventory? For example maybe your an agent that averages 3-5 sales per month. Once a listing is sold simply contact us and we will swap out with a new virtual tour. The only expense is  having a photographer visit the new location. This allows for upgrading or downgrading as needed. This method will also reduce such a large investment into marketing a listing with the potential of not closing the deal.
This program is designed for pay as you need. We show up at the location, shoot at 3D content and simply invoice when done. To scale for small to large location we charge per square foot. Pretty simple and straight forward process.
The main concept to this program is to reduce as much liability as possible for each listing. The cost after the tour is a bit more to offset potential listing not closing. If you make money we make money comes to play. For scaling small to large locations we simply charge a small percentage of listing price. This is more of a team environment setup, so if the listing doesn't close then we don't make money either. Only catch is the photography fee must be paid, everything else is included until closing of listing. To qualify for this program 5 or more listing must be set up to reduce liabilities.